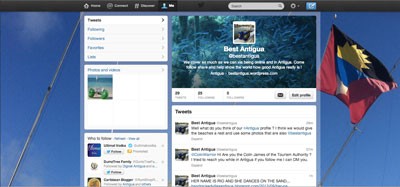 For just 50 pounds including VAT we will create graphics* and set up a twitter account for you !
Here is an example profile on twitter that we made https://twitter.com/bestantigua
You will be provided with full access and root control of this. After we have made sure that you can login and have a business card with all the details on we leave you to it ! We are always here to help guide ** you.
Why ? People are using mobiles and twitter to look for services locally - this could be you !
You will need :
£40 (including VAT)
a working email address (to use with twitter)
Images of your business that are large enough to work with
Recommended extras or NEED MORE ?
Set up of other Social Media Tools such as facebook pages and pinterest accounts. Adding the twitter button or links to your website need not be costly. You may also need a website - we can do that from 200 Pounds +VAT !
You can engage us to guide you part way or we can do a fully managed Social Media Management package for you. This is dependant on your business needs.
*provided we are not rebuilding your logo and have decent images of your business. A within reason concept.
** This is YOUR business make sure you

DO : Just post about your business. How much do I tweet ? Only tweet relevant news when you have it about your business or niche. Ask your friends and family to follow you but be careful who you follow as these people's tweets will appear in your page !
DON'T : Post non professional opinionated posts, replies that will hurt your reputation, allow people to post defamatory posts. This is just a starter if you engage us to help we will give you much more in depth advice.